The Bloc cultivates the love of boxing to share transformational resources with youth and communities on Chicago's West Side.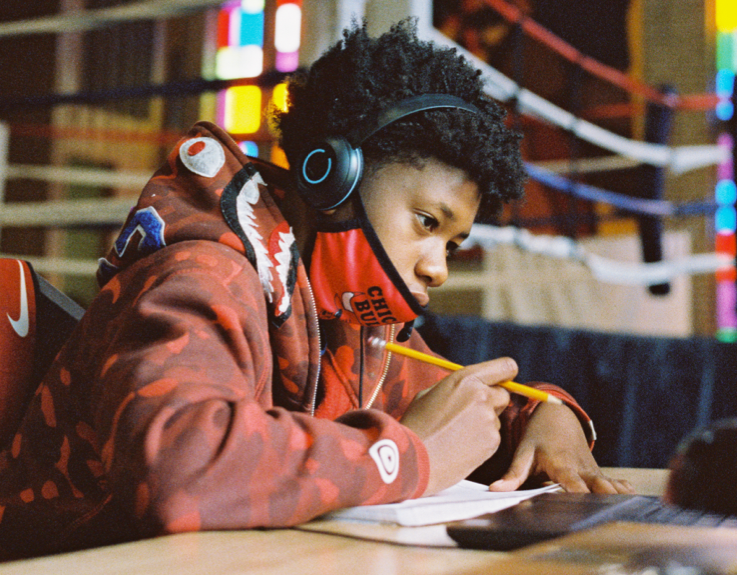 Educational Benefits
Since 2016, we have maintained 100% high school graduation and college acceptance rates. Our fighters' average over 3.2 GPA every year. Youth who come to The Bloc to learn to fight ultimately learn how to fight for their success.
Benefits of Boxing
Youth who want to fight don't join mentoring and tutoring programs. When they try, they are often rejected. Through boxing, The Bloc offers a sense of belonging, support, and a space for youth to be the best versions of themselves.
The Bloc provides opportunities for the positive peer-to-peer interactions that is often lacking from our schools and communities. Young people learn to work together toward a common goal, give and receive feedback effectively, and support one another toward lifelong success.
Each fighter comes in with their own goals. Whether they're boxing, academics or personal, The Bloc creates an environment for fighters to take ownership and work towards their next level of success.
The sport of boxing combines physical and mental benefits so that our youth can grow into confident adults. The Bloc offers youth a chance to release anger and anxiety while being strengthened holistically in all areas of their lives. They know they can conquer anything.
Success Stories
Weslie
Devastated by the sudden loss of his brother, Weslie had a destructive plan to ease his grief. Learn how The Bloc helped change his perspective and turn his life around.
Chikita
Some guys underestimate Chikita because she's a girl. Their mistake. Chikita takes pride in making them pay for it. Hear her explain how The Bloc helped her build the confidence to stand toe-to-toe with the boys.
Davonne
After a turbulent start to high school, Davonne knew his life needed to change. Joining The Bloc signaled a new day in his life-- one where he would do whatever it took to succeed..
Tyler
As Tyler prepares for the 2017 Chicago Golden Gloves, he reflects on the challenges he faces in his community and how The Bloc helps prepare teens for life!
Our supporters make it possible